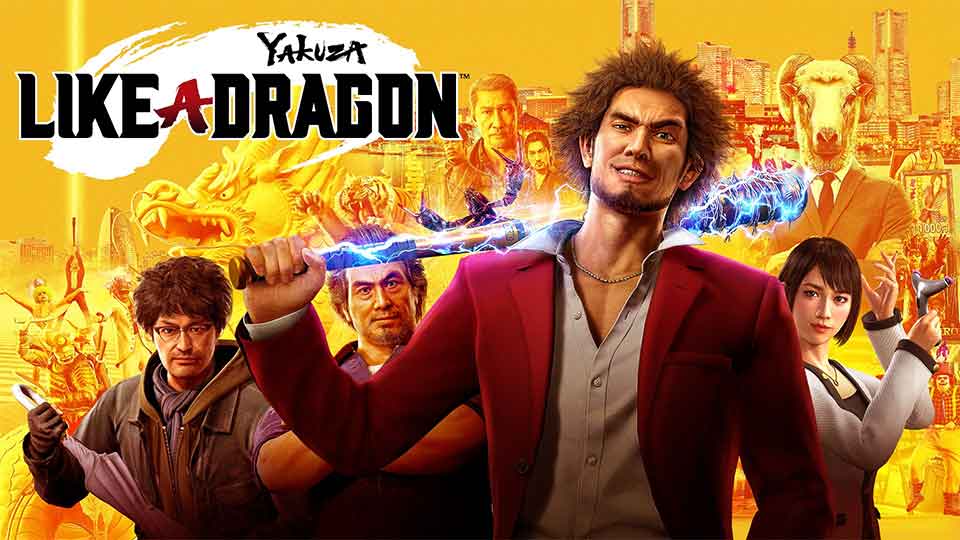 Author: adminka
NUMBER OF CHAPTERS: 015
NUMBER OF SIDE MISSIONS: 052
---
Alert!
If you are scrolling down you may find information regarding the story line of Yakuza: Like a Dragon!
---
Game plot - Yakuza: Like a Dragon
---
Similar to previous games in the Yakuza series, side-quests (known as sub-stories in-game) can be taken up by the player to gain additional rewards and players are also able to enjoy the various side activities around the map such as karaoke. A new side-activity introduced in this game is Dragon Kart, which is similar to other kart racing games in terms of its gameplay.
A huge departure from previous Yakuza games is the battle system. Instead of the real-time beat 'em up mechanics of previous games, Yakuza: Like a Dragon features turn-based RPG (which was the result of an April Fools joke back in 2019 that was so well received that they retooled the combat from its former real-time beat 'em up mechanics) type combat, with a four-person battle team. However, unlike typical turn-based RPGs, characters may use nearby surrounding items such as bicycles to attack enemies (if the items are near the enemies) or may kick surrounding items to their target if there is an interactive item in the environment on the way to the enemy, an aspect that returns from the previous Yakuza games. Players can also call on various party assists to strengthen the party or defeat enemies, with more assists added as the story progresses or through the completion of sub-stories. Players can still continue exploring the world after completing the game. A new game plus mode with additional difficulty settings exclusive to this mode was released as paid downloadable content for the Japanese version of the game, but it comes as standard in the Western release.
Complementing the new RPG type combat system are Jobs, a form of character classes similar to other RPGs. Players can change any party member's job to better fit the party's playstyle. Currently, there are two jobs that can only be obtained via paid downloadable content.[https://en.wikipedia.org/wiki/Yakuza:_Like_a_Dragon]
---
How many chapters in Yakuza: Like a Dragon?
---
015 CHAPTERS
---
List of chapters in Yakuza: Like a Dragon
---
Chapter 1: Light and Shadow
Chapter 2: A Bloody Reunion
Chapter 3: The Town at Rock Bottom
Chapter 4: The Dragon of Yokohama
Chapter 5: The Liumang Man
Chapter 6: Ignition
Chapter 7: The Spider's Web
Chapter 8: Bleached Black
Chapter 9: House of Cards
Chapter 10: Justice Tempted By Mercy
Chapter 11: The Odds
Chapter 12: The End of the Yakuza
Chapter 13: Coin Locker Baby
Chapter 14: Passing the Torch
Chapter 15: To the Pinnacle
(Main missions only.)
---
How many side missions in Yakuza: Like a Dragon?
---
052 SIDE MISSIONS
---
Yakuza: Like a Dragon
List of side missions in

---
Side mission 01: A Can-Do Attitude
Side mission 02: Who's That Sujimon!?
Side mission 03: A Golden Opportunity
Side mission 04: One Man's Trash
Side mission 05: A Trip To Pound Town
Side mission 06: It's The Thought That Counts
Side mission 07: Baby Don't Cry
Side mission 08: Old Cinema Paradiso
Side mission 09: Persimmon Premonition
Side mission 10: Fast Times At Ounabara
Side mission 11: Certified Underdogs
Side mission 12: How to be a Part-time Hero
Side mission 13: Nowhere to Go But Up
Side mission 14: Something Worth Protecting
Side mission 15: Ijincho's Safety Net
Side mission 16: The Crawfish Caper
Side mission 17: A Love Worth Fighting For
Side mission 18: Home Run Heroism
Side mission 19: Bubble, Bubble Toil and Trouble
Side mission 20: Table for One
Side mission 21: Dumpster of Demise
Side mission 22: An Act of Kindness
Side mission 23: Warmest Wishes
Side mission 24: Fifty Shades of Play
Side mission 25: A Fading Star
Side mission 26: The Masked Murderer
Side mission 27: The Miracle of Spice
Side mission 28: Tour Guide Turmoil
Side mission 29: The Michio Minefield
Side mission 30: Fauxno Michio
Side mission 31: Like Father, Like Son
Side mission 32: Forget Me Not
Side mission 33: The Traffic Census Sensei
Side mission 34: Bros Till the End
Side mission 35: Preparing To Suck
Side mission 36: Whispers of the Underworld
Side mission 37: Ringleader Roundup: Bear Blues
Side mission 38: Ringleader Roundup: Tiger Takeover
Side mission 39: Ringleader Roundup: Chimp Calamity
Side mission 40: Welcome to Dragon Kart!
Side mission 41: Two-headed Bomb
Side mission 42: The Rocket Girls
Side mission 43: The Data Drifter
Side mission 44: Biker Blitz
Side mission 45: One Hell of a Racer
Side mission 46: The World is my Racetrack
Side mission 47: Girl of my Dreams
Side mission 48: Shared Vision
Side mission 49: Certified Lover
Side mission 50: Pillow Chat
Side mission 51: The Real Me
Side mission 52: The Lone Survivor
---
How long to beat Yakuza: Like a Dragon?
---
Main story line only: 45
Completionists: 110
---