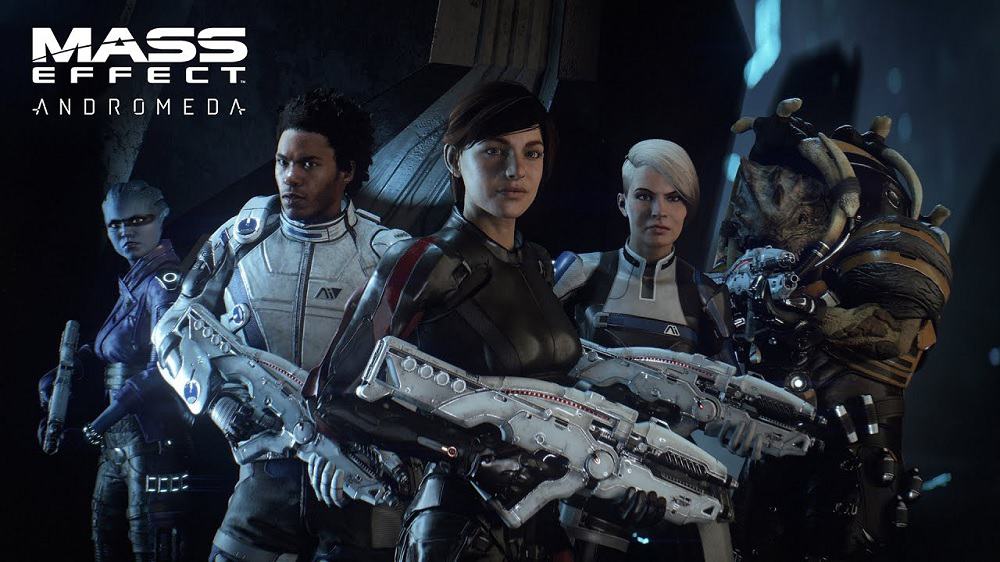 Author: krisz
NUMBER OF CHAPTERS: 019
NUMBER OF SIDE MISSIONS: 035
---
Alert!
If you are scrolling down you may find information regarding the story line of Mass Effect: Andromeda!
---
Game plot - Mass Effect: Andromeda
---
A new adventure awaits in the Mass Effect universe. With stunning visuals and a new galaxy to discover, BioWare delivers the next generation of space exploration.
Commander Shepard's story may be over, but there are many more stories to tell in the Mass Effect universe. Mass Effect Andromeda will be set in a new galaxy, with new characters, new quests and a whole load of new consequence-laden decisions to make.
Mass Effect: Andromeda takes you to the Andromeda galaxy, far beyond the Milky Way. There, you'll lead our fight for a new home in hostile territory – where WE are the aliens.
Play as the Pathfinder – a leader of a squad of military-trained explorers – with deep progression and customisation systems. This is the story of humanity's next chapter, and your choices throughout the game will ultimately determine our survival in the Andromeda Galaxy.
As you unfold the mysteries of the Andromeda Galaxy and the hope for humanity lies on your shoulders – You must ask yourself… How far will you go?
Key Features:
Return to the Mass Effect universe. Lead the first humans in Andromeda on a desperate search for our new home. In this new chapter of Mass Effect, meet and recruit all-new, interesting characters caught up in an epic space saga filled with mystery and galactic conflict.
Fight for survival. Battle with your Pathfinder team against terrifying enemies and creatures. New additions like destructible environments, boosted jumps for added verticality, and all-new weapons and Biotics make combat more thrilling than ever.
Build your hero. Create a formidable hero with amazing weapons, powers and tech. A much more flexible skill and weapon progression tree means you can replicate your play style to make you unstoppable against new, powerful alien enemies.
Explore a new galaxy. Chart your own course in a dangerous new region. Unravel the mysteries of the Andromeda galaxy as you discover rich, alien worlds in the search for humanity's new home.
---
How many chapters in Mass Effect: Andromeda?
---
019 CHAPTERS
---
List of chapters in Mass Effect: Andromeda
---
Prologue: Hyperion
Planetside
Nexus Reunion
First Strike
A Better Beginning
AVP Cryo Deployment Perks
A Trail of Hope I
Helping Havarl's Scientists
Meet the Resistance
On the Frontlines
Stage a Rescue
A Trail of Hope II
Hunting the Archon
Elaaden: A New World
H-047c: A New World
The Journey to Meridian
Meridian: The Way Home
Epilogue: Home and Away
The World is Waiting
(Main missions only.)
---
How many side missions in Mass Effect: Andromeda?
---
035 SIDE MISSIONS
---
Mass Effect: Andromeda
List of side missions in

---
Missing Arks
Turian Ark: Not Dead Yet
Turian Ark: Lost But Not Forgotten
Nackmor Drack: Krogan Betrayal
Cora Harper: Asari Ark
Cora Harper: At Duty's Edge
Jaal Ama Darav: Friend or Foe?
Liam Kosta: Outpost Worlds
Liam Kosta: Armor Diplomacy
Peebee: Secret Project
Peebee: Museum Visit
Vetra Nyx: Means and Ends
Gil Brodie: A Game of Poker
Nexus Side Missions
Tempest Side Missions
Eos Side MIssions
Voeld Side Missions
Havarl Side MIssions
Aya Side Missions
Kadara Side Missions
Elaaden Side Missions
H-047C Side Missions
Research Development Center
Waking up to the Future
Programming a Pathfinder
Lost Brother
Path of a Hero
Subjugation – Voeld
Clearing The Air – Voeld
Catch and Release – Voeld
Gone Dark – Voeld
Naming the Dead – EOS
Turian Salvage – Havarl
Outpost Supplies on Eos – Aya
Broken Family – Kadara
---
How long to beat Mass Effect: Andromeda?
---
Main story line only: 19
Completionists: 64
---