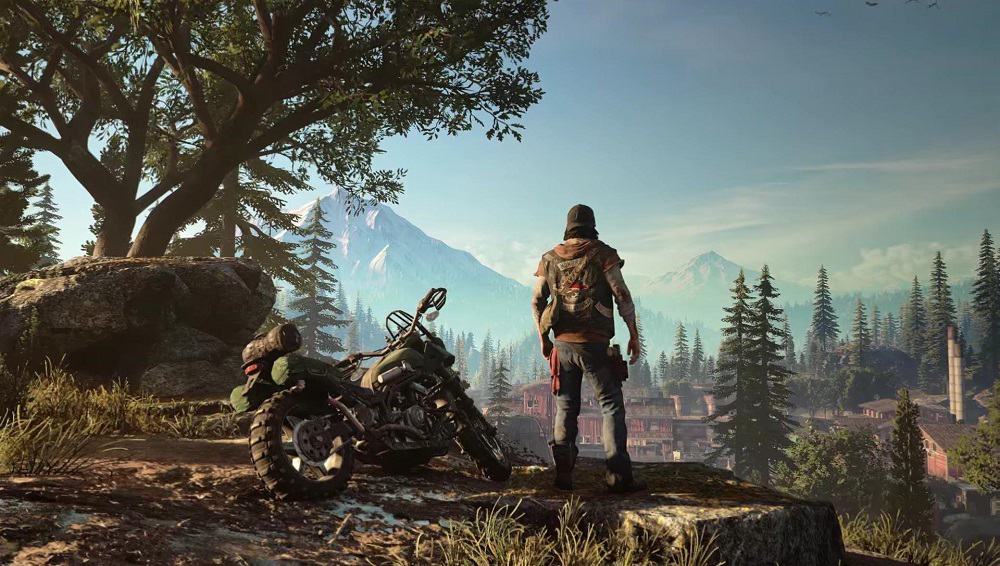 Author: adminka
NUMBER OF CHAPTERS: 016
NUMBER OF SIDE MISSIONS: 045
---
Alert!
If you are scrolling down you may find information regarding the story line of Days Gone!
---
Game plot - Days Gone
---
Days Gone is an open-world action-adventure game set in a harsh wilderness two years after a devastating global pandemic. Play as Deacon St. John, a Drifter and bounty hunter who rides the broken road, fighting to survive while searching for a reason to live.
At its core, Days Gone is about survivors and what makes them human: desperation, loss, madness, betrayal, friendship, brotherhood, regret, love – and hope. It's about how even when confronted with such enormous tragedy they find a reason to live. Hope never dies.
---
How many chapters in Days Gone?
---
016 CHAPTERS
---
List of chapters in Days Gone
---
Chasing Leon:

He Can't Be Far
We'll Make It Quick
I Say We Head North
Out of Nowhere / She Rode With Us
Price on Your Head

Gear Up For The Ride:

Bad Way to Go Out
Drifters on the Mountain
No Starving Patriots
Drugged Outta His Mind
Everyone Has to Work
No One Saw it Coming

He's my Brother:

You Got a Death Wish/Bugged the Hell Out
Clear Out Those Nests
It's a Rifle, Not a Gun
We're Getting Low on Meat
Give Me a Couple of Days
Not Gonna Kill Anyone
We've All Done Things
Now You See It
Playing All Night
With Other Man's Blood
I Could Use a Hand
Riding The Open Road

I Remember:

What Did You Do?
Searching for Something / What's A Nice Girl
It Was On Me
Making Contact
I've Pulled Weeds Before
I Should Have Left Her
I Need Your Help
It's On a Mission
He's Full of Crap
On Herod's Birthday
Moments of Lucidity
It's Been Crazy Here
No Beginning and No End
Drowned Them Like Rats
I Was Distracted / Why Am I Here?
It's the only reason I'm not crazy
Mayday! Mayday!
War
A War We Can Win

You're Safe Now:

It's Not Safe Here
They Won't Let Me leave
I Brought You Something
What Have They Done
No Place Else To Go
Searching for Lisa
I Kept My Name

Earning Our Keep:

Sherman's Camp is Crawling
Flow Like Buried Rivers
You See What They Did / Do You Have My Back?
I Got a Job for You / They Don't Like Visitors
It's a Long Story
Some Kinda Freak Expert / Lines Not Crossed
We're Not Hiding / That's His Mistake
Better To Light The Candle / Outta The Darkness

Ripped Apart:

How About a Ripper Camp?
A Score to Settle

Bounty Hunter:

The Rest of Our Drugs
A Goddamn War Zone
Hard to Miss
Nice and Bloody
Seeds for the Spring
I'll Double It
Over a Card Game
How Many Bodies?
Part of the Family
Keeping Souvenirs
Take Back What's Mine
You Got the Wrong Guy

Protecting the Weak:

He Never Came Back
Coming into Town
Gone Fishing
In their menu
Never Give Up Hope

Surviving Isn't Living:

The Only One He's Got
I Got Work To Do
Drinking Himself To Death
About Boozer's Arm / Was This a Good Idea
You Twisted My Arm
You Could Have Done More / Not Like I Got a Choice
Something to Heal His Soul / Have It Your Way
They Will Never Stop
Riding Nomad Again

Marauder Camp Hunter:

Drifters at Eden Hill
Rippers, Go To Hell
I'll Show You A Fuck-Up
He's Just a Kid

Keep Them Safe:

Trying to help the camp / Don't Get Caught
It Was The Only Way Out
You Won't Be Needing This
Without Being Seen / Now That's An Idea
It never ends.
Like Your New Digs?
Time For Some Payback

A Good Soldier:

Prove It To Me / Driven to Extinction
Don't Give Me Orders
We Will Take Back This World
Leave All That by the Door
I Know The Look / I've Had Better Days
I Tried To Hit That Once
You Can't Be Replaced

I'm Never Giving Up:

I Know Things Are Strange
Afraid of a Little Competition?
Just Another Requisition Form / So Many Of Them
What Kept Me Going / I Knew These People
We Couldn't Take The Risk

Law and Disorder:

We Do Not Discriminate
We Must Fill the Ark
Throw Them Into the Furnace
My Eyes Have een Opened

Secret ending
(Main missions only.)
---
How many side missions in Days Gone?
---
045 SIDE MISSIONS
---
Days Gone
List of side missions in

---
I Remember Side Missions:
It Was on Me
I Should Have Left Her
Surviving Isn't Living Side Mission:
Don't Die
Ripped Apart Side Missions?
A Score to Settle
Hear About a Ripper Camp?
Gear Up For a Ride Side Mission:
Everyone Has to Work
Chasing Leon Side Mission:
She Rode With Us
Protecting the Wekk Side Missions:
Everyone has to Work
He Never Come Back
Bounty Hunger Side Mission:
Nice and Bloddy
Ambush Camp Hunter Side Missions:
No Starving Patriots
Belknap Cave Ambush Camp
Berley Lake Ambush Camp
Bear Creek Ambush Camp
Black Crater Ambush Camp
Bare Bay Ambush Camp
Aspen Butte Ambush Camp
Horse Creek Ambush Camp
Redwood RV Park Ambush Camp
Jefferson Rail Tunnel Ambush Camp
Dearborn Ambush Camp
Wagon Road Ambush Camp
Horde Killer Side Mission:
Chemult Community College Horde
World's End Side Missions
Horse Creek Ambush Camp
Marion Forks Infestation
Pioneer Cemetery Checkpoint
Iron Butte Mountain Road
Chemult Community College Checkpoint
Pilette Bridge Checkpoint
Spruce Lake Checkpoint
Spruce Lake Ambush Camp
Volcanic Legacy Scenic Byway Checkpoint
Santiam Tunnel Checkpoint
Old Sawmill Checkpoint
Rogue Tunnel Checkpoint
Marauder Camp Side Missions:
Drifters on the Mountain
Smoke On The Mountain
Drifters at Eden Hill
Rippers, Go to Hell
I'll Show You a Fuck-up
He'e Just a Kid
A Bunch of Cavemen
Just Doing My Job
How to Catch Them
He's Feeding the Freaks
---
How long to beat Days Gone?
---
Main story line only: 40
Completionists: 65
---